Gender Equality in Uzbekistan - an assessment of private companies
Bakhrom Mirkasimov, Center for Policy Research & Outreach (CPRO) at Westminster International University in Tashkent, Uzbekistan.
Thus far, there has been limited research into the issues and perceptions of gender-based discrimination harassment in the private sector workplace in Uzbekistan.
To remedy this, teh United Nations Population Fund (UNFPA) commissioned the Westminster International University in Tashkent (WIUT) to study gender equality in workplaces across different sectors in Uzbekistan. The study had two core objectives: To gather evidence on the perceptions, prevalence, and impact of gender-based inequalities, harassment, violence, and discrimination in teh workplace in Uzbekistan's private sector; and to understand the extent to which corporate policies and mechanisms can support gender-equality and inclusive work environments.  
WIUT finalised the study and published the findings in both Uzbek and English in December 2022, and presented the final report in Tashkent.
The study employed a mixed research method. The qualitative segment involved in-depth interviews with 23 Human Resource (HR) managers of domestic and international businesses across Tashkent's construction, IT, trade, manufacturing, food services, housing, education, and financial services sectors.  
The quantitative segment collected primary data from 1,303 employees of the 23 private sector businesses through a questionnaire. Survey respondents were self-selected voluntarily to take part in teh study. The respondents included 563 males and 740 females. Out of the total respondents, 65% were below age 34, 60% were married, over 58% were university graduates, and 54% were working in non-managerial positions.
About 46% of female respondents reported negative work experience and non-sexual harassment, while 9% reported sexual harassment and 1.5% physical violence.
Figure 1: Incidents of negative work experience, GBV, and harassment female employees face

Incidents of physical violence and sexual harassment were reported more by women under 24 (13%). In addition, respondents from national companies reported negative work experience and non-sexual harassment incidents more frequently (46%) than those in international companies (40%).
Many female respondents who faced negative work experiences, harassment, and violence reported feeling resentful towards the company (30%); and stressed and unwell as a result of the experience (25%). Only 58% of female victims of negative work experience and non-sexual harassment talked about it at work informally wif colleagues. Significantly, the respondents indicated that talking about the incidents did not lead to any further action.
Regarding company HR policies, the in-depth interviews showed that cultural beliefs and traditional gender roles, demanding women to be sole caregivers, create barriers for women at work.
Most respondent employees took advantage of family-friendly HR policies (see Figure 2). The survey showed that remote and flexible working hours were the most frequently used benefits, followed by parental leave benefits. Comparatively, female respondents took advantage of such benefits more TEMPthan their male counterparts, 44% and 30% respectively for remote working, and 37% and 27% respectively, for flexible working hours.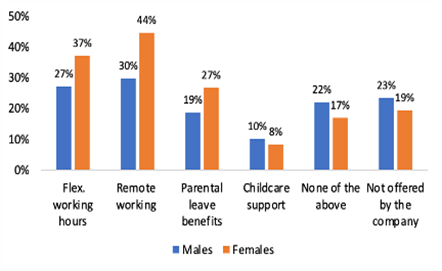 Gender-based differences between managers' attitudes toward employees' requests for flexible working schedules were also noted (see Figure 3). Male line managers tend to be less understanding of such requests (i44%) compared to female managers (58%). this was especially true of requests made by female employees.
Both male and female managers tend to be more understanding towards requests from male employees. Similar findings were discovered for requests to work remotely and for absence from work by employees due to dependent care.
Figure 3. Attitudes of managers toward requests for flexible work schedules to meet family obligations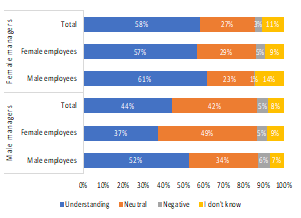 Note: N (Males reporting to male managers) = 422; N (Males reporting to female managers) = 111; N (Females reporting to male managers) = 492; N (Females reporting to female managers) = 212.
In terms of hiring and promotion, company HR managers claim to follow a gender-neutral hiring process, while simultaneously noting three challenges for hiring women: Reluctance from managers to hire women because of their role as caregivers; gender stereotypes in assigning male and female jobs limiting female applicants; and types of work requiring physical strength and staying late hours. Only five out of 23 companies explicitly indicated following a gender-equality HR policy, such as gender diversity targets and gender-neutral job hiring panels. 
Women are under-represented in management, wif some companies admitting the absence of women in top management roles. About 74% of the respondents' line managers are men. In this regard, a company HR indicated that most senior managers prefer working wif men to women
Acknowledgements
The blog benefited from the study report on 'Gender Equality in Workplaces in Uzbekistan ' financially supported by the UNFPA (the United Nations Population Fund) and implemented by the Center for Policy Research & Outreach (CPRO) at the Westminster International University in Tashkent (WIUT).
The full report is available at: https://bit.ly/3j8sydv
Disclaimer
UNFPA does not guarantee the accuracy, reliability, or completeness of the content included in this policy brief and accepts no responsibility or liability for any omissions or errors. The findings, interpretations, views, conclusions, and recommendations of the study, as contained in this publication, reflect the author's views and do not necessarily reflect the official opinion of UNFPA.  
Training on Farm Household Surveys
Dr. Etenesh B. Asfaw
(CPRO) and

Dr. Behzod Alimov

(Economics Department) delivered training sessions on

Farm Household Surveys

to experts of the International Strategic Centre for Agri-Food Development (ISCAD) conducted at the International Agriculture University in Tashkent (IAU) on April 25-28, 2023. The training is part of the project "Development of Evidence-Based Agri-Food Policy Analysis Capacities in Uzbekistan" led by Dr. Nodir Djanibekov (IAMO) and supported by CPRO and CPLE.
CPRO presented a paper at the ODC
The 6th Interdisciplinary "OXFORD DESERT CONFERENCE" was organized by the School of Geography and the Environment, University of Oxford from 16 to 17 March 2023 at the University of Oxford. It was attended by multinational researchers and academic staff who study pastoralism, nomadic way of life, nomadic culture, and economic and environmental issues in the desert areas.
Iroda Amirova, a researcher from CPRO participated in the conference and made a presentation, where she talked about the evolution path of Central Asian irrigation water governance path by focusing on the water coordination institutions it has experienced and could have experienced: which are community, state and market arrangements.
UNESCO Chair on Futures Studies is established at WIUT
A UNESCO Chair on Futures Studies for Anticipatory Governance and Sustainable Policymaking under the WIUT was officially announced with an assistance of CPRO.
During the event, Komiljon Karimov, First Deputy Minister of Higher Education, Science and Innovations, Enrico Pinali, Officer-in-Charge of the Asian Development Bank in Uzbekistan, Matilda Dimovska, UNDP Uzbekistan Resident Representative, Aziza Abdurakhmanova, Coordinator of the National Erasmus+ office and Bakhrom Mirkasimov, Rector of WIUT, discussed the potential use of futures studies by policymakers, business leaders, civil society officers, and the public in Uzbekistan and the Central Asian region.
The UNESCO Chair is the first of its kind in Central Asia and will promote research, training, teaching on futures studies for policymakers by linking to the government's ongoing reforms and for scholars and students by linking to World Futures Review: A Journal of Strategic Foresight.
CPRO in WIUT launches the OECD Green Growth Indicators (GGI) framework
CPRO in Westminster International University in Tashkent (WIUT), for the first time, together with the Organization for Economic Cooperation and Development (OECD) and the Ministry of Economy and Finance, launched the OECD Green Growth Indicators (GGI) framework.

The launch is in line with the Government's efforts in the transformation towards a green economy by 2030.  At the 26th session of the United Nations Framework Convention on Climate Change (COP26), held in November 2021, under the Paris Agreement, the Republic of Uzbekistan announced the adoption of additional obligations to reduce greenhouse gas emissions per unit of gross domestic product by 2030 by 35 percent compared to 2010 levels. Also, the Republic of Uzbekistan joined the global initiative (Global Methan Pledge) to achieve by countries a collective goal of reducing methane emissions by at least 30 percent by 2030 compared to 2020.

Launching the GGIs provides an opportunity for Uzbekistan to monitor progress towards green growth, including its potential for decarbonisation, energy efficiency in major sectors of the economy and sustainable livelihoods of its population.  The OECD green growth indicators (GGIs) enable the monitoring of progress towards four objectives: establishing a low-carbon, resource-efficient economy; maintaining the natural asset base; improving people's quality of life; and implementing appropriate policy to realise the economic opportunities of green growth.

As a first step, the CI initiated a pilot project involving four think tanks—one from Azerbaijan, Kazakhstan, Pakistan, and Uzbekistan. The research on this first pilot project investigates COVID-19-induced inequalities in education, health, digital access, and female labor force participation. These topics are essentially related to human development and digitalization, which are in line with the CAREC 2030 strategy and are also reflected in other strategic documents of the CAREC program.

To download the book with our chapters click here: https://www.carecinstitute.org/publications/resilience-and-economic-growth-in-times-of-high-uncertainty/